So I've actually done a bit of work since my last post; FOUR months ago  ug where does the time go!
But I admit I've gotten a little down about the boat and feeling a little not exactly overwhelmed, but just lost interest a little bit I guess.
But so anyway I met a pretty cool girl and she was curious and interested in the boat and wanted to play with my tools.  (what can I say, I gots me some cool tools)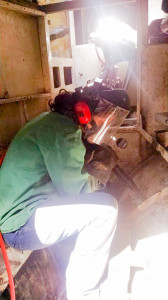 So anyway her enthusiasm rubbed off a bit and one of the cool tools I wanted to let her play with is the pneumatic needle scaler.
So I set her loose in the engine room because there were a couple places on the hull with some bad rust scale that really worried me.  But so anyway after she nuked those couple really bad spots with the scaler I followed up with a sandblaster and made a pretty amazing discovery.
The sand just peeled back decade after decade of dirt and rust and neglect, until it got to the original 76 year old paint from 1938. I dunno what's in that crap, but it's bulletproof and in STUNNINGLY good condition. The sandblaster easilly chews through rust and paint and dirt until it hits that old probably lead based paint and it just stops.  It's pretty amazing! As you can see in this picture, there's just a ton of stuff that looks like it could be rust coming through the hull, this is after a pressure wash BTW!   But almost all of the rust and grunge discovered so far has been sitting on the surface of PERFECT steel.
So like a well needed shot in the arm, I'm suddenly excited to be working on the boat and making just a bit of progress every day!
I'm not quite emotionally  ready yet to discuss Della being a way better welder than me on her first day though.